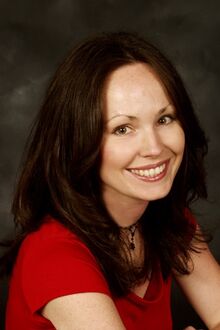 Gena Showalter(born 1975 in Oklahoma) is the autor of The White Rabbit Chronicles.
Website Bio
Edit
Gena Showalter is the New York Times and USA TODAY bestselling author of the spellbinding Lords of the Underworld, Otherworld Assassins, and Angels of the Dark series, as well as two young adult series--Everlife and the White Rabbit Chronicles--and the highly addictive Original Heartbreakers series.  In addition to being a National Reader's Choice and two time RITA nominee, her romance novels have appeared in Cosmopolitan (Red Hot Read) and Seventeen magazine.  She was interviewed on Nightline and has been mentioned in Orange is the New Black.  Her books have been translated in multiple languages.
She's hard at work on her next novel, a tale featuring an alpha male with a dark side and the strong woman who brings him to his knees. You can learn more about Gena, her menagerie of rescue dogs, and all her upcoming books at genashowalter.com or Facebook.com/genashowalterfan
Ad blocker interference detected!
Wikia is a free-to-use site that makes money from advertising. We have a modified experience for viewers using ad blockers

Wikia is not accessible if you've made further modifications. Remove the custom ad blocker rule(s) and the page will load as expected.